Digital marketing penetrates every sphere of society, and real estate is not left out. A report by the National Association of Realtors (NAR) revealed that almost 97% of home buyers use the internet to search for a home, and guess what? Websites are the most popular marketing channel on the internet. Also, a whopping 51% of buyers found the homes they purchased on the internet. For context, only 28% of buyers found the homes they purchased from real estate agents.
This article discusses the different kinds of real estate websites, highlighting which is best for each user class. We also identify the benefits of real estate websites, including how real estate agents can leverage these websites to dominate the real estate market.
Types Of Real Estate Websites
Real estate websites enable home buyers and realtors to connect. However, they ultimately focus on helping buyers search for affordable properties online while assisting real-estate agents in finding clients. The common types of real estate websites are real estate marketplaces, real estate aggregators, property listing websites, property management websites, real estate promotional websites, and real estate investment websites.
Real Estate Marketplaces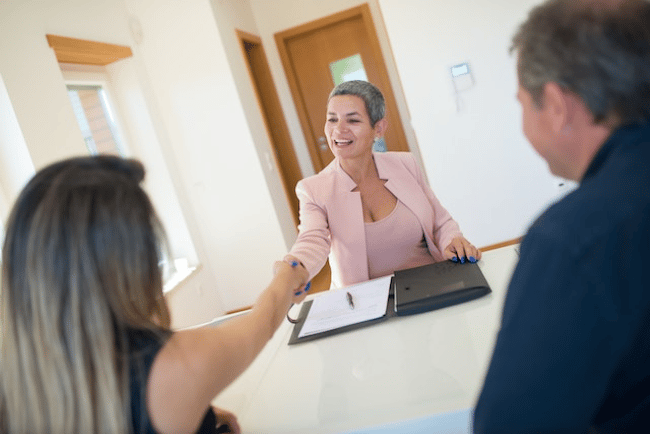 Marketplaces are platforms where buyers and sellers can connect to buy and sell real estate property. They list properties, their prices, descriptions, images, and other details. Real estate marketplaces are popular because they allow buyers to find a property without needing agents or real estate professionals.
Real estate marketplaces are also great places to research the prices of comparable properties. There's also a low barrier to entry as buyers do not need to pay commissions or any form of fees, and homeowners can list their property without a real estate agent. Buyers can also set notification alerts to get updated on new listings or price changes. Zillow, probably the largest real estate website out there, is a marketplace. Other famous examples of real estate marketplaces are Trulia and Redfin.
Real Estate Aggregators
Real estate aggregators are a one-stop shop for commercial, residential, and bank-owned properties. These platforms aggregate real estate listings from multiple sources such as newspapers, magazines, local multiple listing services, and other websites into one real estate site. They provide an easy way for users to compare different properties before making a purchase decision.
Aggregators have several listings on them, which helps buyers to make an informed decision. They benefit those who want to compare properties in one place and find the best deals. Aggregators are also great for indecisive buyers who want to compare different properties before making a purchase decision, as they can access all their options in one place.
Well-known real estate aggregators have over a million properties listed on them and MLS listings, thus, attracting a sizeable amount of active home buyers daily.
Some popular real estate aggregators include Realtor.com, Homes.com, and HomeFinder.
Property Listing Websites
Real estate agents who want to list their client's properties online use property listing real estate websites. These sites help advertise the listed property, enabling potential buyers to browse property listings and view detailed information, including pictures and property images.
The website's properties are grouped into affordable or luxury properties, investment properties, or residential bank-owned properties. They usually have a search system that allows buyers to filter the type of property they want and narrow their search.
Property listing sites may also list rental properties. Property listing websites usually have many listings, making them very useful for buying or renting a property. Property listings websites, however, do not permit individual listing, which reduces the number of properties available on them.
However, this increases the quality of service and the assurance that the property on the website is genuine. Some popular examples of property listing websites are Realtor.com and ListHub.
Property Management Websites
These websites are designed to manage online property transactions for landlords, tenants, homeowners, and property managers. Landlords and property management companies mainly use them to manage their rental properties. They usually have features such as rental payment, maintenance requests, tenant and landlord profiles, property listings, and other features that help manage properties.
The best part of property management websites is that they enable the automation of a big part of the homeowner's job. It manages the financial aspect of property management efficiently.
Property management websites can also improve property owners' legal activities—these websites are known as homeowners assistants. Popular examples of these websites include AppFolio, Cozy, and Buildium.
Real Estate Promotional Websites
These websites promote a specific real-estate development project or real estate agency. They provide detailed information about the development project, such as floor plans and pictures, to entice potential buyers. The real estate promotional website also provides the real estate agency or developer contact information, so buyers can contact them if they need more information.
The real estate agency or developer usually designs these websites to promote their project and attract interested buyers. Real estate promotional websites can also promote rental listings for a fee or commission. Some popular examples of these websites are CBRE, Cushman & Wakefield, and JLL.
Real Estate Investment Websites
These real estate sites offer access to various investments related to real estate, including stocks, bonds, and mutual funds. Real estate investments have been gaining ground progressively over the years as they offer astounding benefits, including tax benefits and value appreciation.
Real estate investment websites provide:
Information about the different types of investments.
Their potential return on investments.
Risk factors.
Regulations associated with each type of investment.
Investments can also be grouped based on the investors' experience level and risk appetite.
Real estate investment websites offer real estate investors the opportunity to diversify their portfolios with real estate investments and to access information related to the sector. The best real estate websites that fit into this category are Fundrise, Realty Mogul, and RealCrowd.
Top real estate websites combine marketing features with real estate news that guide home buyers through their buying process. Summarily, these real estate websites are based on user-centric functionalities which are not mutually exclusive and could be combined in some instances.
Homeowners, home buyers, real estate agents, landlords, investors, and even individuals can request a custom-built website that combines all the functionality required to maximize their returns in the real estate industry.
Leveraging Real Estate Websites To Dominate The Real Estate Industry
Real estate websites provide an excellent opportunity for agents and developers to dominate the industry by increasing their visibility and providing an excellent customer experience. Real estate websites can power branded messaging and images, responsive design, IDX integration, blog content, and lead-capture landing pages.
Branded Messaging And Images
Branded messaging and images help to strengthen your presence in the real estate industry and attract potential customers. Your website will be more memorable and easily recognizable with a strong brand identity, which will help you stand out from the competition.
Responsive Design
A responsive design ensures that your website is optimized for various devices, such as mobile phones and tablets. This makes it easier for users to access your website from any device without compromising on the quality of the content. It also improves user experience, making it easier to navigate and find information quickly.
IDX Integration
Integrating IDX (Internet Data Exchange) allows your website to display listings from multiple listing services in real-time, giving buyers access to the most up-to-date information about properties for sale.
Blog Content
Adding blog content to your real estate website allows you to provide valuable insights and advice on various topics related to the real estate industry. This helps to build trust and credibility with potential buyers while also increasing your website's visibility in search engine rankings.
Lead Capture Landing Pages
Setting up lead capture landing pages on your website allows you to collect information from potential buyers and follow up with them in the future. This makes it easier to keep track of leads and convert them into sales.
These features add value to the customer experience and boost sales and market position. Furthermore, homeowners can use real estate websites for property management, promotional activities, or investments. These websites allow real estate agents and developers to manage properties efficiently, promote their projects, and access investment opportunities.
By leveraging the power of these websites, real estate agents and developers can become leaders in the real estate industry.
Real estate websites also provide amazing value for buyers and investors. These websites list a wide range of properties, including foreclosure properties and distressed properties, which are often undervalued and provide great value for the investor.
Conclusion
Real estate websites offer an excellent platform for buyers, sellers, landlords, tenants, and investors in the real estate market. By leveraging the correct type of website, buyers and sellers can easily find what they are looking for, landlords and tenants can manage their properties efficiently, and investors can access the correct information to help them make profitable investments.
Priceless Consulting is the ideal option if you're seeking a custom real estate site that will help you optimize your sales and client base in the real estate market. We are experts at building websites specifically suited to the requirements of real estate brokers, landlords, investors, and homeowners.
Our experts will work with you to build a website with all the features you need to succeed in the real estate market. With Priceless Consulting, you can rest assured knowing that you're getting the best real estate website possible.
We have years of experience in web development and SEO, and we know the requirements for building a website that is both attractive and useful. We always go above and beyond to ensure that our clients are happy with their websites.
Contact us if you have any questions or would like more information about our real estate websites. We would be delighted to talk about your specifications and determine how we can help you make the most of your website. We hope to hear from you very soon!