As a non-profit organization, it is essential to have a sustainable and consistent source of funding. This can be in the form of donations from kind-hearted individuals or organizations. However, managing donations can be a tedious and time-consuming task. This is where Donorbox comes in handy.
Donorbox is an online fundraising software that helps individuals and organizations accept donations via their websites. This donation software was founded a few years ago by an engineer and a team who had a passion for giving back to the community and making it easy for people to donate to their favorite charities. Donorbox has many features that will benefit both the donor and the charity.
In this article, we will discuss what Donorbox is and why it is becoming a popular tool for many non-profit organizations. We will also discuss its features and benefits and recommend whether it is a good platform for online donations. So without further ado, let's get started!
What Is Donorbox?
Donorbox is a US-based technological company that offers online fundraising software that enables individuals and nonprofit organizations to accept donations over the internet. Donorbox is used by charities, churches, mosques, schools, animal rescue organizations, political campaigns, and nonprofit organizations to collect donations.
Charles Zhang founded Donorbox in 2014 to offer nonprofits an all-in-one platform for collecting online donations, thereby easing the burden of regulatory compliance and protecting them from fraud. Since then, Donorbox has launched as a free WordPress plug-in with PayPal and Stripe payment gateway options.
The company has evolved, offering a wide range of features that make it easier for organizations to collect more donations. It has been modernized to adopt a recurring donation management system that supports cards, PayPal, ACH, apple pay, and cryptocurrencies.
The software is available in various languages, including English, Spanish, French, German, and Portuguese. As of today, Donorbox has helped over 50,000 nonprofit organizations raise over $1 Billion in donations from individuals worldwide.
Why Is Donorbox Gaining Popularity?
There are many reasons why Donorbox is becoming a popular tool for many organizations. Here are some of them:
User Friendly
Donorbox is a very user-friendly platform that makes it easy for anyone to set up an account and start collecting donations. The platform is designed to be straightforward, even for those who are not tech-savvy.
All you need to do is create a Donorbox account and then follow the simple instructions on how to set up your donation page. You can also customize your donation page to match the look and feel of your organization's website.
Payment Options
Another great thing about Donorbox is that it offers many payment options, including credit cards, PayPal, Google Pay, and Apple Pay. This makes it easy for donors to donate using their preferred payment method. Donorbox is now in tune with modern cryptocurrency donation trends. The donation software allows individuals to donate using Bitcoin, Ethereum, Litecoin, and other popular cryptocurrencies.
Fees
Donorbox charges a flat 1.5% fee per donation (For ACH (direct bank donation, Donorbox fees are capped at $25). This is a very reasonable fee, considering that most other online donation platforms charge a higher percentage. Moreover, Donorbox does not have hidden fees, so you can be sure that all your donations will go to the intended recipient.
Safety And Security
When it comes to safety and security, Donorbox is compliant with PCI-DSS and GDPR standards. This means that any donor data you collect will be safe and secure. Donorbox also uses SSL encryption to protect all donation transactions.
Fraud Reduction
Criminals frequently target nonprofits for card testing, which results in significant losses as well as unintentional denials of honest donations. While ensuring that genuine donations continue to reach Donorbox's charitable clients, the organization constantly employs machine learning to identify and stop fraud.
In a nutshell, Donorbox has been making online donations easier and safer for both donors and organizations.
Features Of Donorbox
Donorbox offers various features that make it easy for organizations to collect donations. Some of them include the following:
Donation Form
The Donorbox donation form, UltraSwift™ checkout, reduces donor drop-off by eliminating the need to type any personal information, therefore speeding everyone through checkout in nothing but a few clicks. This donation feature makes the average donation time four times faster than other donation platforms.
Campaign Insights
Donorbox also provides valuable insights into each campaign, such as the number of donors, total raised, and conversion rate. This information can be very helpful in planning future campaigns and measuring the success of past campaigns.
Custom Emails
With Donorbox, you can customize the email receipts that are sent to your donors. This is a great way to show your donors that you appreciate their support.
Donate Button
The "donate buttons" help organizations create a customizable donation button that they can embed on their website, emails, or social media page. The button will allow potential donors to donate without having to leave the page they are on.
Fundraising Pages
Donorbox ensures that organizations can make beautiful and responsive fundraising pages that are designed to increase conversions. With this feature, organizations can also create campaign-specific donation pages.
Text-to-Give
As the name states, Text-to-Give helps organizations collect donations via text message. This is a great way to reach potential donors who are always on the go and may not have the time to visit your website or donation page. Also, Donorbox adds a Repeat Donation feature making it hassle-free to give again with just a single text.
Peer-to-Peer Fundraising
Peer-to-peer fundraising is an excellent way for organizations to engage their supporters and get them more involved in their cause. Donorbox makes it easy to set up and manage peer-to-peer campaigns with its intuitive interface. Here, the Peer-to-Peer feature empowers your supporters to launch personalized campaign pages and collect donations from their peers on your behalf. All the money they raise goes directly to you.
Crowdfunding
Crowdfunding is another donation feature that allows organizations to raise money for specific projects or causes. With Donorbox, you can easily create and manage crowdfunding campaigns with its built-in tools. For instance, the Donorbox crowdfunding feature allows using campaign insights and social proofing to boost support and donations.
Monthly Recurring Donations
The recurring donation feature allows organizations to set up monthly donations. This is a great way to encourage donors to commit to giving on a regular basis.
These are the most common features that organizations use. All of these features are designed to help organizations collect more donations and run their campaigns more efficiently.
Donorbox Pricing Options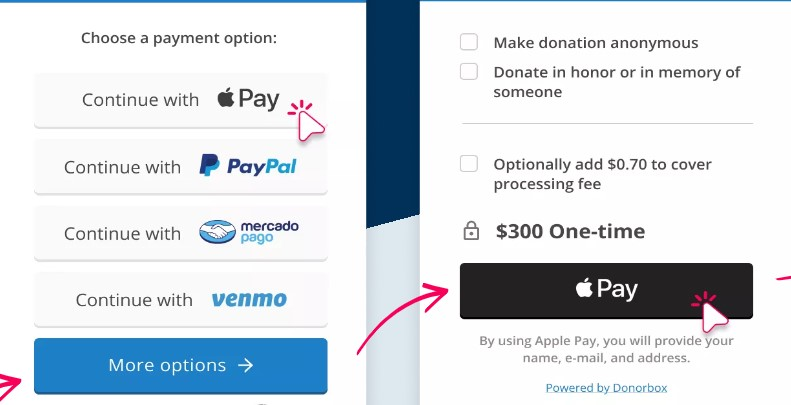 Donorbox understands that charitable organizations have a limited budget, so they offer a standard and premium plan for charities. The goal is to ensure that all organizations, no matter their size, can use the platform to collect donations.
Donorbox Standard Plan
Donorbox Standard offers free monthly fees with zero commitments to organizations needing powerful tools at market-competitive prices. About 80% of users opt to do.
Also, the Donorbox standard plan offers the following:
Free-to-setup donation forms, donate buttons, & fundraising pages.
Free-to-setup features, offering the latest in donation-boosting tech.
Free customer support that's knowledgeable and understanding.
Free donor management for professional nonprofits.
Users only pay the 1.5% platform fee and payment processing fees.
Donorbox Premium Plan
The premium plan is designed for high-volume organizations that need more customization options, branding, and priority customer support. Donorbox Premium offers users everything from the Standard plan, plus a team of fundraising superstars, personalized support, and premium software to maximize your donation potential.
Opting for Donorbox premium gives you:
Expert coaching that is designed to pay for itself with increased revenue.
Account Ambassador delivering highly personalized customer service.
Priority tech support making onboarding & implementation a breeze.
A premium suite of fundraising tools to supercharge donations.
Many believe Donorbox offers the cheapest pricing plans at 1.5% compared to other platforms like Class, Fundly, Causevox, Fundraise, etc., which charge between 2.9% – 4%.
Verdict: Is Donorbox Recommended?
Yes, we recommend Donorbox for organizations seeking an affordable, all-in-one fundraising solution. With powerful tools and features, Donorbox makes it easy to collect donations online. The company also offers free monthly plans for small organizations and various customization options for larger organizations. Overall, Donorbox is an excellent solution for charities looking to increase donations and run their fundraising campaigns more efficiently.
Bottom Line
Online donation platforms are making it easier than ever for nonprofit organizations to collect donations and run their fundraising campaigns more efficiently. There are many charitable campaigns to fund, like medical research, building energy for solar communities, supporting war-torn countries, and more.
Want To incorporate Donorbox To Your Website? Contact Us!
If you want to learn more about how to use Donorbox or want help incorporating it into your non-profit website, contact us today! We are a website development company that specializes in developing and designing optimized websites. Our team can help you every step of the way, from start to finish. We look forward to hearing from you!