If you're a construction company, it is more important than ever to have a website. Having a website allows potential customers to learn more about your company, see your work in action, and contact you easily. Not only that, but having a website can also help you rank higher in search engine results pages (SERPs), which means more traffic for your business.
As a company, your online presence should be as important as your physical presence. This is why we have put together an extensive list of construction companies that you can draw inspiration from.
Also, in this blog post, we will discuss the benefits of having a website as a construction company and give you some ideas on how to make yours stand out from the competition. Keep on reading to find out the construction website examples to help you get started.
Why Do You Need A Website As A Construction Company?
A website is a must have for any company in the construction industry. It's the best way to showcase your work, attract new customers, and connect with potential partners.
Any construction company needs a good website since it allows customers to buy products and request services from anywhere in the world. It also gives you an online presence, which can help you attract new clients and strengthen your brand.
Furthermore, having an amazing construction website design allows you to communicate with your customers about product information, news, and changes. Also, it creates a channel for feedback, queries, and complaints. This will allow your company to know how to improve on the services it renders. You see, construction web design is not for the faint of heart – there's a lot of competition in the space, and there is always someone out there doing a Google search for their construction projects, so having a place to go for the best construction websites and web design is going to set you on the right track to success.
Finally, a website is a good money-making and facilitation platform because it enables your company to accept money and deliver goods (if your construction company sells building materials) straight to your customers' homes.
That being said, it's best to ensure that your website is user-friendly and showcases your construction related business in the best light.
So if you are in need of a web designer, be sure to contact our award-winning web design firm.
25 Best Construction Company Websites
As a commercial construction business, you should have your own custom page layouts. If you are looking for an inspiration, here are some of the best construction Industry websites out there:
When you visit the Toll Brothers website, you'll be greeted with a revolving presentation of some of the world's most lavish homes, because their website has a modern wordpress theme.
Before Toll Brothers start patting themselves on the back, you have to scroll below the fold (the content that displays on the page before scrolling). For example, they highlight that they've been named to FORTUNE Magazine's list of the World's Most Admired Companies for the past five years. By the time you get to this point, you're almost certain that Toll Brothers is the best option for you.
The Hill Construction Co. website's homepage is as seen above. Other scrolling photos will whet your thirst for luxury, but they are kept intentionally limited. The statement "your partner in luxury homebuilding" appears in the center of each image.
Only by clicking away from the homepage can you learn more about Hill Construction Co. Their portfolio is neatly organized and it has a feature rich theme. One of the better approach pages on their website is that It covers all aspects of their construction process, including predesign, pre-construction, construction, and post-construction.
The website of Farrell Building Co. is so effective because of its responsive wordpress theme and it has video clips of water bodies and tennis games which will pique your interest.
Some essential elements like the about page, homebuyer's menu, and a broker's menu are available to get lost in. On both their homepage and the Find a Home section, Farrell Building Co. lists the four categories of properties they provide. Rentals, build-to-suit, custom homes, and iconic homes are among them.
It's sometimes ideal to instill specific imagery into people's heads as a building company where the design possibilities are unlimited. In the case of Millennium Partners, this is something they excel in. You can tell what kind of construction focused theme they're trying for just by looking at their website.
The website's background is a stunning sunset photo of a metropolis. Millennium Partners adds more prominent city photos to their homepage, in addition to a link to their about page and a review of their properties. Despite the lack of menus on their website, Millennium Partners makes it simple to look at the properties they've worked on, providing links to the current buildings' webpages.
The website for 'Jackson Design and Remodeling' is up to date, complete with a blog, information about the services they provide, and a location where clients may locate remodelers in other areas of the country who provide comparable high-quality work. It's easy to navigate, looks freshly updated with new content and Important information including phone number, reviews, and bookings is easy to find.
Westlake Development Group has a website with beautiful pictures that use a variety of media to create an engaging experience for visitors. Clients may easily see the entire breadth of their work thanks to professionally shot photographs, video, and user-generated content from their social media.
Redrow brands their website perfectly. On their homepage, they have a tagline that says, "People say new homes are all the same…They don't know Redrow." They're already preparing you for a sense of exclusivity that can only be obtained by purchasing a property through Redrow.
The My Redrow section of the site, which you should sign up for before buying a home, adds to that. When you sign up for their service, you'll be able to look at new houses while they're being built, discover which properties are available before non-members, receive Redrow's home-buying checklists and advice, and keep track of appointments.
Taylor Lane's website is perfectly laid out with strong calls to action and gorgeous visuals that highlights the construction firm's unique portfolio. The website is easy to navigate and fully responsive.
The global construction company has a simple website design that shows its portfolio. One amazing feature about the construction website is that it focuses on people and the community as well, not just the company. This shows their commitment to helping the society grow.
GFI Partners' website has six menus instead of a slideshow advertisement of their properties on the homepage. These include industrial, residential, healthcare, office, and other types of developments. The last five will take you to the properties in which these real estate investment advisors have been involved. You can see what GFI is now working on and what it aims to tackle next in the latest news area.
The company's past projects are displayed in bright, colorful, huge images that you can click on their project's website, which is clean and easy to navigate. You can then discover more about each property, including, in some cases, videos of the construction process.
A series of short videos showcasing the gorgeous Charleston area may be seen on the main page. Continue scrolling to see the simple yet charming illustrations of houses. The black-on-white artwork, which is accompanied by a delicate paragraph of writing, is brightened by a few dashes of color.
On Linesight's construction website, they cover program management, project management, project controls, cost management, supply chain management, health and safety, consultancy, and procurement services. Each category includes a clickable icon and a little image to help it stand out.
Here, they have a good social media feed which makes it better to interact. The construction website is linked to their social media handles and it displays their pictures perfectly.
Contech has a well designed construction website with a detailed analysis of the firm's construction activities. Website visitors can request pricing and start a project on the website. Also, the website has some video clips attached to it and an active blog that provides blog posts on technical construction and engineering issues.
A worldwide construction company with an easy-to-navigate website that is simple but effective. The website includes an overview of the company, its services, and a blog.
The firm has a fully responsive construction website that is designed in Navy blue and white. Their website provides details about their approach, the services that they render, an extensive portfolio, among other things.
Their construction website is simple, with plenty of pictures highlighting their diverse portfolio. They have an extensive resource library that you can filter by country, sector, and service.
They have a distinctive constructive website, which features vibrant, earthy colors, attractive images, and easy navigation for a great user experience. There is also a lot of useful information on their construction website about their history and recent construction services.
On the construction website, you are welcomed with a bold picture of Maple Leaf Construction's logo. The construction firm emphasizes its construction strategies by showcasing its portfolio and projects. They also prioritize connection with their potential and existing clients as they urge you to reach out and connect with them on other social media platforms as well.
The construction website of S C Cox has a graphic on the homepage that gets your attention without distracting from the call to action. The scrolling animation on the construction website and its flexible construction WordPress theme makes the website fully responsive as you browse through it.
Harper Construction's website is one of the most well-designed construction websites on this list. It features a simple design that gives you a pleasant sensation while you browse the site.
When you visit Matt's construction company website, you'll get a sense of the scope of their work on the construction site right away. Seeing these projects through the interactive video helps you decide quickly if they're the right firm for the job.
The professionalism of Schimenti's website is immediately apparent. Their website is well-spaced, which is a positive feature because it allows visitors to read the information well and move around the content.
NABA construction website is full of wonderful shapes that make it feel lively. Even the color scheme helps you feel enthusiastic about the website while still maintaining a professional appearance.
26. South Coast Improvement Company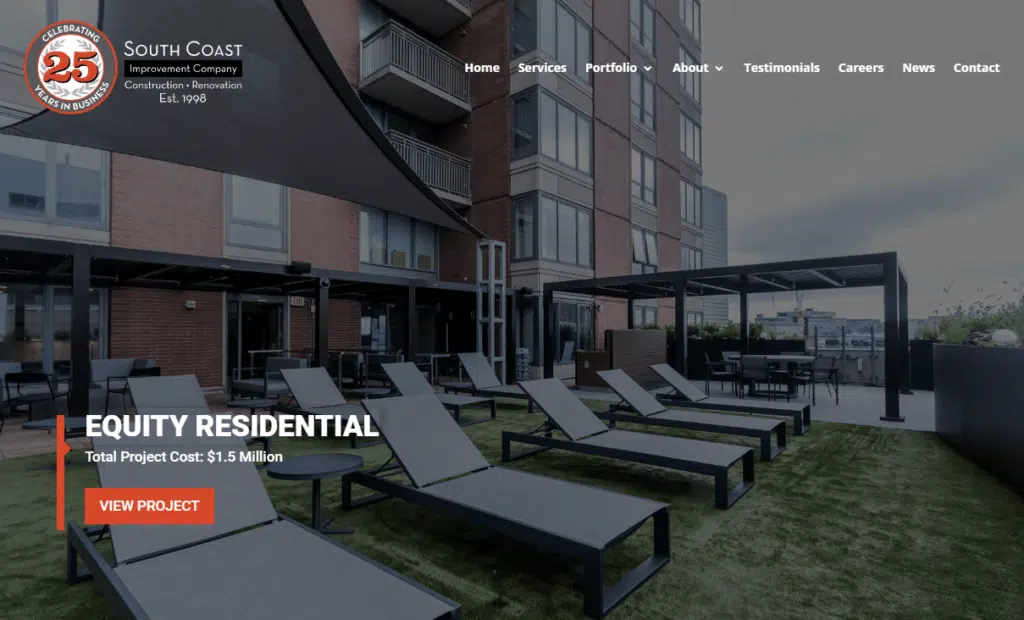 South Coast Improvement Company is a leader in commercial design, construction and management services – both interior and exterior – across a variety of industries.
Conclusion
No matter the size of your construction company, having amazing construction websites is essential in today's digital age. Not only will it give customers another way to find you and learn about your services, but it also gives you a place to showcase your work and share testimonials from happy clients.
The best construction company websites are easy to navigate, visually appealing, and updated regularly with fresh content. If you don't have a website yet, or if yours needs a refresh, consider contacting us!