Images play an important role in most websites. They help to break up chunks of text, add visual interest, and explain complex concepts. But images can also slow down a website's loading times.
That's where Imagify comes in. Imagify is a powerful, advanced image optimization plugin that makes it easy to compress images without sacrificing quality. Let's take a closer look at how it works.

What is Imagify?
In a world where visuals are everything, having high-quality images on your website can make all the difference. This is where Imagify comes in – a powerful image optimization tool that ensures your images are not only visually appealing but also fully optimized for fast loading times.
Whether you're a blogger trying to increase your page speed, an online retailer looking to showcase your products or a photographer displaying your portfolio, the Imagify plugin has got you covered.
With its easy-to-use interface and customizable settings, you can compress images without losing quality, automatically optimize and resize images to fit your needs, and even convert your original images to a WebP version for faster loading times.
Optimisation plugins are essential for website performance. If you have a WordPress site, unoptimized images are affecting your website speed. Imagify is the most awesome wordpress plugin to create automatically optimized images. Imagify is recommended by many WordPress developers. There are many optimisation plugins, but imagify is an awesome tool and easy to use.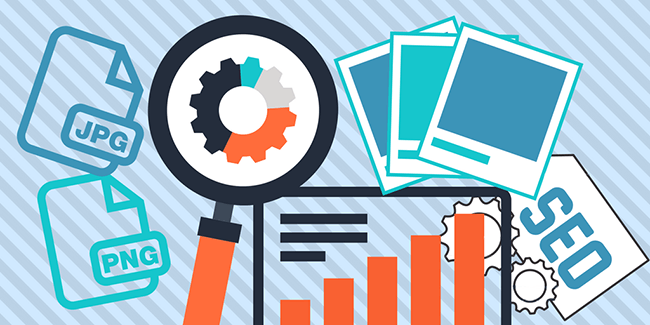 How Does Imagify Work?
Imagify uses advanced compression algorithms to reduce the size of your images while preserving their quality. After you upload your images to the platform, Imagify automatically optimizes them for faster loading times.
You can choose from three different levels of compression depending on your needs: Normal, Aggressive, and Ultra. For example, if you need the highest possible level of compression for maximum performance, you can select the "Ultra" option. If you want to maintain some level of image quality, then "Normal" will be sufficient.
In addition to compressing images, Imagify also offers features like lazy loading and WebP images conversion which further optimize image performance on your site. Lazy loading ensures that images are only loaded when they are visible on the page—this reduces page load time by eliminating unnecessary requests for off-screen images.
WebP conversion allows you to display WebP images instead of the most common image formats, like JPEG and PNG. WebP format is significantly smaller than their traditional counterparts so they load much faster on webpages.
Imagify automatically replaces the original versions or large images into WebP versions to speed up loading time. Imagify is the best caching plugin for bulk optimization of all your images.
Imagify Features: The Ultimate Solution to Optimize Your Images
Optimize Your Images
Shrink your hefty image and PDF files with ease using this incredible tool! Whether you have a free or premium account, you can compress all your commonly used image formats and PDFs in no time.
Plus, with no limit to the upload size for paid accounts, you can enjoy all the storage space you need without any restrictions. Give your files the space they deserve with this remarkable compression tech today!
Resize Large Images
Transform your visuals into perfectly-sized works of art with just a few clicks! Whether you're using an online app or your CMS, you have the power to resize your images to perfection.
Make them big, small, or just right with options to specify height, width, or percentage. Don't let size constraints hold you back from creating captivating content – resize and integrate your images seamlessly for optimal impact!
Easy To Use
Imagify makes optimizing your images a breeze. They understand the importance of user-friendliness and simplicity, and their services reflect just that.
Rest assured that resizing and optimizing your images is no longer a tedious and time-consuming task with Imagify. Say goodbye to the frustrations of Photoshop and hello to effortless and sleek image optimization with this user-friendly tool.
Optimize from Your CMS
Transform your website's images with ease using this innovative WordPress plugin. PrestaShop, Magento, Shopify, and Joomla will soon have access to the imagify plugin! Say goodbye to clunky and tedious image compression tasks with these state-of-the-art tools.
The best part? The automation of the process means you can sit back, relax, and let technology do the work for you. Maximize your website's efficiency and visual appeal in a snap with automatically optimized images!
Connect To API
Revamp your custom development projects or apps with the transformative power of Imagify. Break free from image optimization obstacles and elevate your visuals to the next level with this invaluable tool.
Manage and upgrade your images with ease, boosting their quality and appeal in any given scenario!
Don't Overuse Your Server
Say goodbye to bulky images and hello to lightning-fast loading times with this game-changing server! Its expertly designed technology optimizes your images like a pro, leaving you with sleek, compressed results that are sure to impress your audience.
No more struggling with slow loading pages – this server has got you covered.
Save Money and Space
Imagify is a game changer for website owners and developers! Say goodbye to heavy servers and slow loading times. With Imagify, you can save on bandwidth, storage, and backups, and your site will feel as light as a feather. Plus you'll have lighter images! Don't miss out on the magic of Imagify!
Your Files are Safe
Step into a world where your valuable images and documents can rest easy, knowing they're protected by impenetrable, encrypted connections.
Keep your secrets safe and sound with unbreakable security, giving you peace of mind and the confidence to trust in your digital footprint. Let your creativity and ideas roam free, without the fear of intrusion or theft.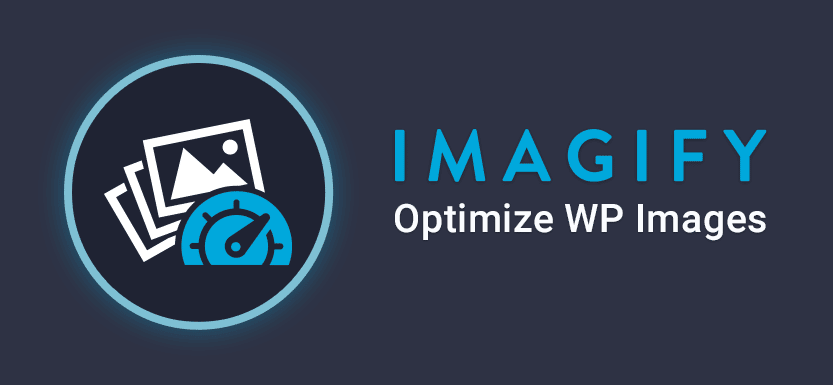 Why You Need Image Optimization
The importance of optimizing images is unknown to many people with websites. As the online world continues to grow, it's more important than ever to keep your website up to par with current trends and standards. One crucial component of website optimization is image optimization.
Although it may seem like a small detail, neglecting to properly optimize your website's images can cost you valuable web traffic and user engagement. By compressing images, properly sizing them, and implementing alternative text, you can drastically improve your site speed and user experience.
With so much competition on the internet, don't let your website fall behind – prioritize image optimization and quickly gain precious seconds to your site speed!

Next Gen Format
The world of digital imaging is constantly evolving, and next-gen image format is set to revolutionize the way we store and process images.
With advanced image compression techniques and increased support for high-dynamic-range (HDR) content, these new formats promise to deliver sharper, more vivid imagery than ever before, without compromising the quality of the photo due to the compression level.
Not only will they provide better visual quality, but they will also reduce file sizes, making it easier to share and store images. As technology continues to advance, it's exciting to see how this new image format will push the boundaries of what we thought was possible.
With imagify you can turn your media library into a nextgen gallery and optimize your images in all common image formats.

Benefits Of Using Imagify
The biggest benefit of using Imagify is improved page speed and performance—images can take up a lot of bandwidth so compressing them helps your website load faster overall. Faster page load times also lead to better user experience since visitors don't have to wait as long for pages to load; this can result in higher engagement rates and even more conversions over time.
In addition, using Imagify will help cut down on hosting costs since compressed images take up less space than uncompressed ones—this means fewer servers are needed overall which translates into lower costs for businesses in the long run!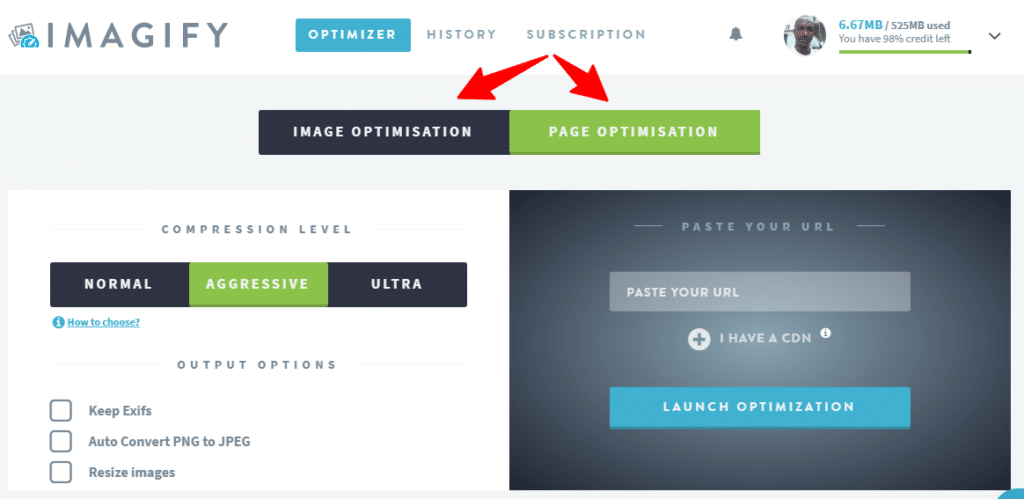 Security Features
Imagify also offers advanced security features such as HTTPS encryption for all traffic between servers; an API key authentication system; automatic backup of original files before any changes are made; and a strict privacy policy ensuring that no data collected from users will be shared with third parties or used for any purpose other than optimization of the images uploaded by users.
All these features make Imagify a secure option for optimizing your site's images without compromising security or privacy.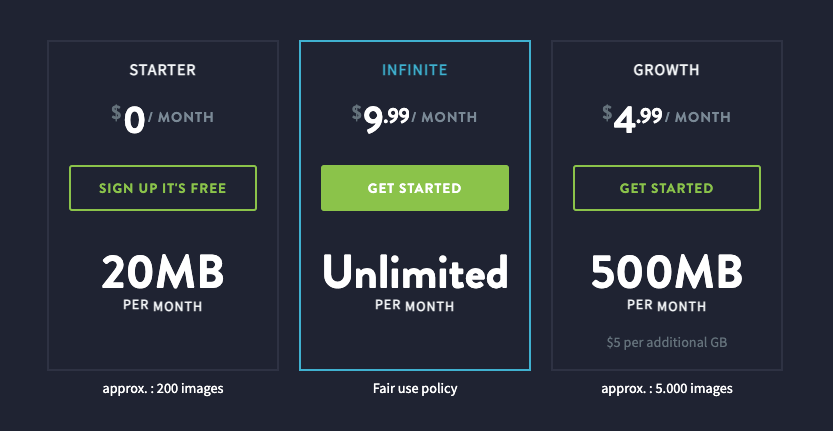 All features are included in every plan. Without a complex settings page, this easy to use plugin will allow you to optimize your images with a lossless compression. Use the highest plan as a bulk optimizer and turn every image into an optimized image.
Starter
$0 a month
20 MB per month
Approximately 200 images
Growth
$4.99 a month
500 MB per month
$5 per additional GB
Approximately 5,000 images
Infinite
Which Formats Can be Optimized?
Transform your images with Imagify's all-in-one optimization tool! Enhance your jpgs, pngs, pdfs and even your animated gifs to maximize their impact and boost your online presence. Imagify's versatile optimization options ensure your images always look their best.
How Should I Know Which Compression Level is Best for Me?
Looking to optimize your images for faster loading times? Look no further than these three compression levels – Normal, Aggressive, and Ultra. With Normal compression, you'll enjoy "lossless" optimization without sacrificing any image quality, while Aggressive and Ultra promise even smaller file sizes at the cost of some picture quality.
For the best balance of size and quality, we recommend Aggressive compression. However, it's always a good idea to experiment with all three options to see what works best for your image library.
Once you find your favorite, running bulk optimizations or using the Media Library page is a breeze!
How Does the Optimization Process Work?
Let Imagify take care of your image optimization needs! Their servers handle the process from start to finish, delivering optimized images straight to your server. And don't worry about losing any important information – Imagify won't touch your image titles or other details.
Plus, your original images will be safely backed up in a dedicated folder, as long as you keep the images backup option active in Imagify settings. So sit back and let Imagify do the work for you – it's the hassle-free way to keep your images looking top-notch.
How Long Are Images Stored by Imagify?
Say goodbye to bulky image files slowing down your website! With Imagify's nifty WordPress plugin, you can finally optimize images quickly and easily. The best part? Once you've optimized those images, they're yours forever – even if you delete your Imagify account!
During the optimization process, your images are stored safely for one hour on Imagify's server (relax, they're already sent back to your site).
Optimizing images with the online application? Images are stored for 24 hours with a free account, and an unlimited amount of time if you choose to upgrade. Say hello to fast-loading pages and goodbye to frustrating load times!
Can I Restore Images After Compression?
Imagify's got your back! With the Backup option activated in the settings (which, by the way, is automatically turned on when you activate the WP Plugin), you can rest assured that your images are safe and sound.
No need to worry about losing your precious visuals anymore! You can restore your images as long as the backup option is on.
If I Remove Imagify, Will My Images Stay Compressed?
Say goodbye to image size stress! Keep your pictures compressed and worry-free, even after parting ways with Imagify.
Don't sweat it- deleting your Imagify account is no sweat off your back because your images will stay as crisp and compact as they were before. Existing images remain optimized no matter what!
If I Use Imagify, Do I Need To Continue Optimizing and Resizing My Images With Photoshop?
Get crystal clear images without the hassle and time-consuming task of resizing and optimizing them in Photoshop. You read that right! Enter Imagify – the secret weapon to effortlessly enhancing the quality of your pictures.
Say goodbye to tedious editing sessions and hello to stunning visuals that grab attention.
Is The EXIF Data of Images Removed?
Imagify, the popular WordPress plugin, normally removes EXIF data from images. However, if you're a fan of keeping this useful metadata, there's good news: Imagify allows you to enable this feature!
By simply navigating to the Imagify Settings page, you can choose to keep your EXIF data intact. Say goodbye to losing important information about your images, and hello to a more seamless photography experience!
Which CMS Add-Ons Are Available?
Get ready to amplify your images with Imagify! While currently exclusive to WordPress, fear not, because their API can seamlessly integrate with other CMS platforms.
Say goodbye to pixelated and slow-loading images and hello to optimized and speedy visuals! Say hello to Imagify.
Do You Need Help With Your Website Images?
Are you looking for a team of expert WordPress developers who can take your website to the next level? Look no further than Priceless Consulting. Our team has years of experience in WordPress development, and we know exactly how to create a stunning website that meets all of your needs.
And with Imagify, our optimized images will make your site lightning-fast, boosting your SEO and providing an even better user experience for your visitors. So why wait? Contact Priceless Consulting today and let us take your website to the next level!

Conclusion
Imagify helps website owners save time, money, and resources by compressing their images without sacrificing quality or performance.
By optimizing both file size and format (via lazy loading and WebP conversion), users can ensure that their websites are running quickly with minimal effort required from them!
Whether you're looking for improved SEO rankings or better user experience, Imagify has something for everyone!